NEW AND EXCITING CHANGES ARE COMING TO VIDEO SCREAMS!



COMING 2023:
New website, new ONLINE CATALOGUE, new Collectors Clearance Catalogue AND MUCH MORE!! It will be a year of change and improvement! STAY TUNED!!
MEGA CATALOGUE BOOK ONE IS AVAILABLE!
MEGA CATALOGUE BOOK TWO IS AVAILABLE!
BOOK THREE IS NEARLY READY!
COMING SOON! VIDEOSCREAMSXTREME.COM

PLEASE NOTE: VHS CUSTOMERS We can no longer offer the clear or black vinyl cases as our supplies have quit making them. All VHS orders will now include black or colored cardboard sleeves instead. We will continue to offer VHS as long as we can obtain VHS supplies, but it is getting harder to acquire.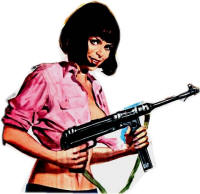 JOIN E-MAIL SUBSCRIBERS
BE THE FIRST TO GET UPDATES, SPECIALS AND EXCLUSIVE PROMOS!!