---
COLLECTORS CLEARANCE CATALOGUE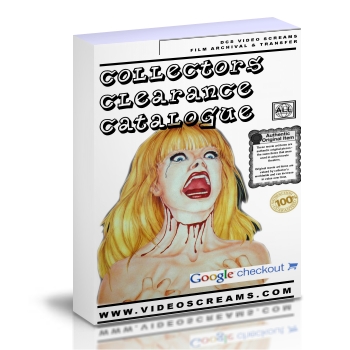 We've dug deep and added even more treasures to our already bursting COLLECTORS CLEARANCE CATALOGUE. Hundreds of new and used pre-record VHS, DVD and laserdiscs... rare original film posters, press-books and pictures…..rare and out-of-print genre magazines….a HUGE collection of comics…..toys, models, collectibles…..brand new exclusive DVDs ….and more!!

Before you spend a fortune on one title on Ebay– check out our huge selection. We're making room for more….. Looking for a specific VHS title (genre related)? Let us know– we may just have it!
With over 30 years of service to collectors worldwide, our award winning service, selection and quality is unbeatable.
GALLERY






CONTACT INFO
Phone: 419.629.2383
E-mail: VideoScreams@msn.com
contact page
All titles in our main catalogue are now just $13.00 each (plus S&H)!
Save more by taking advantage of our bulk rate deal or monthly online specials & promos!
Exclusive Online Promos & Specials...